It's that time of year again! Time to look back at the books I read and share with you the ones I enjoyed the most – the ones I would recommend or the ones that just struck me deeply.
It's always interesting to me to look back at what I've read, because it gives a broad picture of what I was up to, what interested me, and where I ended up. It's a more subjective measure of my year than anything I could come up with on my own.
This year I only read 31 books. Life kind of… happened. Between learning a new job, struggling to write, three months of total exhaustion, moving across the country, having a baby, and then struggling to write again while also juggling said baby (not literally, of course – I'm not a monster), I found it difficult to fit in as much reading as I once could.
Taken in a different light, I should really be saying – wow! Somehow I read 31 books! But that doesn't please the perfectionist in me, so we're just going to skirt around numbers and dive straight in to the best part: talking about books.
I made a goal at the beginning of the year to read mostly women, mostly fantasy, and especially aim for voices outside the mainstream white, straight, & male. I did end up with a few of those, but otherwise I stuck to my goal, even if I didn't finish my 2016 TBR list. And interestingly enough, although I "only" read 31 books – a far cry from last year's 52 and the prior year's 70 – they were top notch. I loved almost all of them, which is why even though I read less this year, I still have ten awesome books to share with ya'll.
Without further ado, here are my 2016 Books of Awesome, Part One: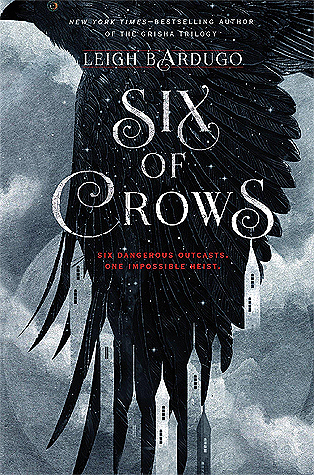 Six of Crows by Leigh Bardugo
"Criminal prodigy Kaz Brekker is offered a chance at a deadly heist that could make him rich beyond his wildest dreams. But he can't pull it off alone. For his crew, he pulls together: a convict with a thirst for revenge; sharpshooter who can't walk away from a wager; a runaway with a privileged past; a spy known as the Wraith; a Heartrender using her magic to survive the slums; and a thief with a gift for unlikely escapes. Kaz's crew are the only ones who might stand between the world and destruction — if they don't kill each other first."
I loved that the world in this book was so heavily Slavic. It made for a nice change of pace. Speaking of pace, it's a bit breakneck which made it very, very difficult to put down. I read this in two days. It's so much fun and I never saw what was coming next. Even better, it's a complete story in itself, but enough threads were left open for a sequel – which is definitely on my TBR list.
The Accidental Terrorist by William Shunn
"Nineteen-year-old Bill Shunn is a man on a mission—a Mormon mission, that is, trolling for converts door-to-door a thousand miles from home. This riveting memoir—by turns hilarious, provocative, and thrilling—traces his accidental journey from that humble beginning to hunted fugitive and international terrorist."
I love me some funny yet poignant memoirs occasionally, and this one did not disappoint. This was a delightful and informative look into the world of Mormon missions and just what those pairs of well-dressed young men are doing in your neighborhood. Interwoven is the story of Joseph Smith, the man & the myth behind Mormonism. I learned way more than I'd expected and had a fun time at it, high praise in my book.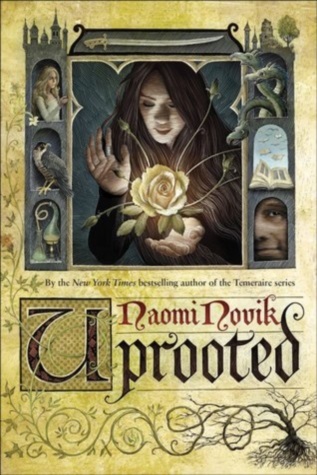 Uprooted by Naomi Novik
"Agnieszka loves her valley home, her quiet village, the forests and the bright shining river. But the corrupted Wood stands on the border, full of malevolent power, and its shadow lies over her life.
Her people rely on the cold, driven wizard known only as the Dragon to keep the Wood's powers at bay. But he demands a terrible price for his help: one young woman handed over to serve him for ten years, a fate almost as terrible as falling to the Wood."
I picked this up based entirely on the idea of a dragon preying on a small village that wasn't actually a dragon. I loved this because of the cranky wizard at its heart and the actually-quite-terrifying Wood. The MC is plucky and equally cranky and the story runs ahead at equal amounts trot and gallop. There's even a kick-ass best friend to help balance out the romance.  This is the kind of fairytale for grown ups that I adore.
On the Edge of Gone by Corinne Duyvis
"January 29, 2035.
That's the day the comet is scheduled to hit—the big one. Denise and her mother and sister, Iris, have been assigned to a temporary shelter near their hometown of Amsterdam to wait out the blast, but Iris is nowhere to be found, and at the rate Denise's drug-addicted mother is going, they'll never reach the shelter in time.
Then a last-minute encounter leads them to something better than a temporary shelter: a generation ship that's scheduled to leave Earth behind and colonize new worlds after the comet hits. But each passenger must have a practical skill to contribute. Denise is autistic and fears that she'll never be allowed to stay. Can she obtain a spot before the ship takes flight? What about her mother and sister?"
Ooooh, I love Duyvis' writing so much. First her magnificent YA fantasy, Otherbound, and now an apocalyptic YA with both equal amounts terror and grace. But the terror is all in who is considered useful enough to live post-apocalypse and who gets to decide. When the marginalized have a hard enough time in daily society, what happens during the end of the world?
For an apocalyptic story, it was surprisingly hopeful. I loved how Duyvis never focused on chaos and anarchy, and instead drew more than enough tension from mundane questions, which in turn made the worldbuilding feel especially realistic.
Every Heart a Doorway by Seanan McGuire
Children have always disappeared under the right conditions; slipping through the shadows under a bed or at the back of a wardrobe, tumbling down rabbit holes and into old wells, and emerging somewhere… else. But magical lands have little need for used-up miracle children.
Nancy tumbled once, but now she's back. The things she's experienced… they change a person. The children under Miss West's care understand all too well. And each of them is seeking a way back to their own fantasy world."
As usual, Seanan spins the creepiest, most entertaining yarns. I always love how she'll take a particularly common cliché and worry at it until she's completely turned it on its head, yet it still remains achingly familiar. This knack shines brightest with fairytales, her forte, and here she is, exploring the inevitable, yet unexplored, consequences of all those tales: what happens to the children who come back?
There's much more to the story than just that question – like murder and mystery and a self-identified ace main character- and it's all somehow wrapped up within the confines of a novella.
To be continued!