I love and hate Goodreads. Okay, that's not true: I mostly love Goodreads. I'm hesitant about the direction they've taken, but I love having a place where I can keep track of all the books I want to read, have read, and loved. I also love their little yearly book challenge, where you can set your own goal of reading one or a hundred books – or anything in between. I'm not sure how much this has affected my reading aside from encouraging me to drop those books I don't particularly enjoy a lot sooner, but looking back I'm glad to see that I still consistently read a lot.
I also enjoy pausing at the end of the year and looking back at all I've read. The year's books are telling in their own way: what came out, what I was interested in, what inspired me, as well as what finally became available at the library.
Goodreads says I've read 76 books so far this year. More than a handful were no-finishes – that is, I started them only to become unimpressed quickly or realize it just wasn't for me. I used to review every book I read, but I've since realized that a book that just wasn't for me or wasn't any good at all isn't worth the effort. I would rather spend my time writing reviews or spreading about really awesome books, and I also realized that I would rather hear about those books, too.
Therefore, while looking back over the books I read this year, I picked out a few to share here, with you. You might like them. Or you might be able to psychoanalyze my year.
Here are my 2014 Books of Awesome, Part One:

Brilliance by Marcus Sakey
"Since 1980, one percent of people have been born as one of the "brilliants," a class of human with extraordinary abilities. Nick Cooper is among them; a federal agent, Cooper has gifts rendering him exceptional at hunting terrorists. His latest target may be the most dangerous man alive, a brilliant drenched in blood and intent on provoking civil war. But to catch him, Cooper will have to violate everything he believes in – and betray his own kind."
This book was fun, engaging, and fast. The women characters weren't completely flat and you're never quite sure who is on which side, plus I feel like it did a good job of updating the traditional mutant/superpowers story to the present, terrorist-filled day and post 9/11 world. Definitely a good, fast read for the airplane or bus.
Parasite by Mira Grant
"A decade in the future, humanity thrives in the absence of sickness and disease. We owe our good health to a humble parasite – a genetically engineered tapeworm developed by the pioneering SymboGen Corporation. Now, years on, almost every human being has a SymboGen tapeworm living within them. But these parasites are getting restless."
Mira Grant did her research and it shows. If you read and liked her first series, Newsflesh, you will like this. It's sci-fi horror with more science and less jump scares and even if you can spot the ending from three miles away, it is still satisfying to watch the narrator realize – and then try really hard to ignore – the truth for herself. I also especially loved the MC for being complex and amazing and just… she's just really well written, acts believably, and doesn't fling herself unnecessarily into danger. I could just see her being a real human being all around – which, in a way, is even more frightening.
Another thing to note about this author: her cast of characters are not just all white & straight and I love her so much for that. It's so refreshing to see a lesbian couple as just part of the world and Mira (or should I say Seanan McGuire, because Mira is an alter ego) does this in all her books. Love love love.
After the Golden Age by Carrie Vaughn
"Most people dream of having superheroes for parents, but not Celia West. The only daughter of Captain Olympus and Spark, the world's greatest champions, she has no powers of her own, and the most exciting thing she's ever done is win a silver medal in a high school swim meet. Meanwhile, she's the favorite hostage of every crime boss and supervillain in Commerce City. She doesn't have a code name, but if she did, it would probably be Bait Girl, the Captive Wonder."
Another really fun, fast read. I've come to appreciate these more as I get older because I've come to realize how difficult it is to write something that is both fun and interesting and fast without being also incredibly shallow and/or otherwise problematic. Apparently I was on a superhero kick early in the year.
The Death of the Necromancer by Martha Wells
"Nicholas is a passionate, embittered nobleman consumed by thoughts of vengeance. But at night he assumes the guise of a master criminal, stealing jewels from wealthy nobles to finance his quest for vengeance the murder of Count Montesq, the man who orchestrated the wrongful execution of Nicholas's godfather on false charges of necromancy. But now a series of eerie, unexplainable, even fatal events have interrupted Nicholas' murderous mission."
I don't know how to explain this one. I picked it up on a lark and even though it was the second in a series I'd never heard of, it was still really good. It's a high fantasy set in some weird, not-quite-Victorian place that also has underground elves (?? I think that was from the previous book), but the characters were ridiculously fun and the plot never stopped and I cared about everyone and no one was particularly tropey or flat and even though the Real Plot wasn't revealed until nearly the end, I never felt cheated. If you like high fantasy and are tired of how dull and manpain-centric most of them are, you'd probably like this.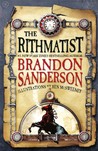 The Rithmatist by Brandon Sanderson
"More than anything, Joel wants to be a Rithmatist. Rithmatists have the power to infuse life into two-dimensional figures known as Chalklings. Rithmatists are humanity's only defense against the Wild Chalklings. Having nearly overrun the territory of Nebrask, the Wild Chalklings now threaten all of the American Isles. Joel can only watch as Rithmatist students learn the magical art that he would do anything to practice. Then students start disappearing—kidnapped from their rooms at night, leaving trails of blood. Assigned to help the professor who is investigating the crimes, Joel and his friend Melody find themselves on the trail of an unexpected discovery."
Sanderson. Oh, Sanderson. I have waxed poetic about this man in the past and I will continue to do so forever. He can not only write complex characters and well-paced plots, but his world building is excruciatingly beautiful. I will read anything he writes at this point, and I know I will like it.
Rithmatist was no exception. It's YA (I think?), but that doesn't matter. How does he come up with all these magic systems? I just. I don't even.

Cress by Marissa Meyer
"In this third book in the Lunar Chronicles, Cinder and Captain Thorne are fugitives on the run, now with Scarlet and Wolf in tow. Together, they're plotting to overthrow Queen Levana and her army. Their best hope lies with Cress, a girl imprisoned on a satellite since childhood who's only ever had her netscreens as company. All that screen time has made Cress an excellent hacker. Unfortunately, she's just received orders from Levana to track down Cinder. "
This is the 3rd in basically what is a fairytale retelling merged with a Sailor Moon fanfic series. It's good and fun and surprisingly dark. I've enjoyed picking out all the little nods to the original stories and Cress was by far the darkest and – unsurprisingly – my favorite. I want Winter to come out now.
The Girl Who Circumnavigated Fairyland in a Ship of Her Own Making by Catherynne M. Valente
"Twelve-year-old September lives in Omaha, and used to have an ordinary life, until her father went to war and her mother went to work. One day, September is met at her kitchen window by a Green Wind, who invites her on an adventure, implying that her help is needed in Fairyland. The new Marquess is unpredictable and fickle, and also not much older than September. Only September can retrieve a talisman the Marquess wants from the enchanted woods, and if she doesn't, then the Marquess will make life impossible for the inhabitants of Fairyland. "
Ah, so ridiculous! So delightful! Valente has a way with words, and by that I mean she can spin ridiculously beautiful sentence after beautiful sentence and you just want to eat it up. Paired with a fun, occasionally dark, story set in Fairy and you have a winner.
The Golem and the Jinni by Helene Wecker
"When her master dies during the voyage, the golem Chava is unmoored and adrift as her ship arrives in New York in 1899. The jinni Ahmad, born in the ancient Syrian desert but trapped in an old copper flask by a Bedouin wizard centuries ago, is released by a tinsmith in a Lower Manhattan shop. A powerful threat will soon bring Chava and Ahmad together, challenging their existence and forcing them to make a fateful choice. "
Technically, this is "literary" fiction and not just ye olde fantasy, but it's still good. It took a while to get into and really get going, but once it does it's a gorgeously written story and I couldn't stop. It's the kind of story that gets into your brain and lingers there, whispering, for days after you finish and put it down. Just warning you.
Cheap: The High Cost of Discount Culture by Ellen Ruppel Shell
"An Atlantic correspondent uncovers the true cost-in economic, political, and psychic terms-of our penchant for making and buying things as cheaply as possible."
Don't read this if you really, really like cheap shit. In short: There Ain't No Such Thing as a Free Lunch. I've always had a basic understanding that cheap things are cheap for a reason – and usually a bad reason – but never fully grasped how deeply the notion that things should be cheaper than they are – and fuck the consequences – has become an Ideal in our culture and economy. I would make this required reading for any Economics class.
Farm City by Novella Carpenter
"Urban and rural collide in this wry, inspiring memoir of a woman who turned a vacant lot in downtown Oakland into a thriving farm"
I also went through an Everything Farming!! phase earlier this year, and of the handful of books I read, this was my favorite. The author was a seriously-no-kidding urban farmer who raised bees and geese and chickens and grew all sorts of plants in a not-so-pleasant urban setting. It's a cute, honest memoir that really just reinforces the notion that farming is for everywhere and everybody.
To be continued!