Here is part two of my 2015 Books In Review. Part one is here.

Otherbound by Corinne Duyvis
"Amara is never alone. Not when she's protecting the cursed princess she unwillingly serves. Not when they're fleeing across dunes and islands and seas to stay alive. She can't be alone, because a boy from another world experiences all that alongside her, looking through her eyes."
This is the kind of book where I finished it and immediately looked up the author and everything else she has written. Unfortunately, this is Duyvis' debut, but fortunately she has another book coming out this year.
All that's to say that this was a YA that made me so, so happy. Interesting fantasy world: yes. Awesome female main character: yes. Awesome bi main character: yes yes. Very high stakes that keep getting higher: yessity yes yes. No love triangle: OMG YES. Fun(?) moral choices: yeeessss.
I don't often unequivocally recommend books, but here you go. Read it.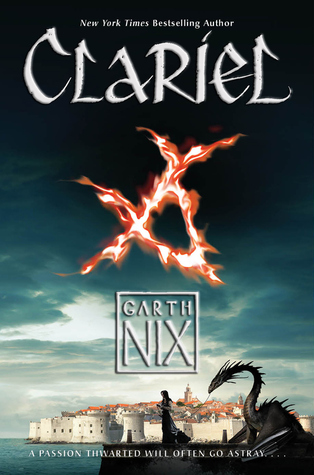 Clariel by Garth Nix
"Sixteen-year-old Clariel is not adjusting well to her new life in the city of Belisaere, the capital of the Old Kingdom. She misses roaming freely within the forests of Estwael, and she feels trapped within the stone city walls. And in Belisaere she is forced to follow the plans, plots and demands of everyone, from her parents to her maid, to the sinister Guildmaster Kilp. Clariel can see her freedom slipping away. It seems too that the city itself is descending into chaos, as the ancient rules binding Abhorsen, King and Clayr appear to be disintegrating."
My last WIP had an ace main character, so before I started the draft zero I wanted to see what kind of ace representation was already out there in the YA world. Answer: nothing. Real answer: well, almost nothing. Clariel is the only one I've found so far with an ace MC, and boy is she awesome.
I'm a fan of the Abhorsen series, so I'm surprised I didn't pick this one up sooner. If you haven't yet, and you like necromancers and fairyesque worlds, you should read the first in the series: Sabriel. This one is a fun, if sometimes exceedingly dark, worthy successor in the series. The only downside is that the audiobook isn't read by Tim Curry. 🙂
Flight Behavior by Barbara Kingsolver
"After a decade of domestic disharmony on a failing farm, Dellarobia Turnbow has settled for permanent disappointment but seeks a momentary escape with a younger man. As she hikes up the mountain road behind her house to a secret tryst, she encounters a shocking sight: a silent, forested valley filled with what looks like a lake of fire. For her, it's a cautionary miracle, but it sparks a raft of other explanations from scientists, religious leaders, and the media.
The bewildering emergency acquaints rural farmers with urban journalists, opportunists, sightseers, and a biologist personally invested in the outcome. As the community lines up to judge the woman and her miracle, Dellarobia confronts her family, her church, her town, and a larger world, in a flight toward truth that could undo all she has ever believed."
You know me and literary fiction: there's a reason most of my favorite list is fantasy. But goodness, this was a fulfilling, yet restless, book. Most descriptions bill it as a story about global warming, but it is so much more than that: a story of chaos and transformation.
Of course, I loved the parts about the butterflies the most, and all the detailed information about their lives. Absolutely insane what they go through. On top of that, I loved the depiction of science and scientists. As someone married to a scientist, I understand the frustration of watching your research be willfully misinterpreted. That careful underscoring of what, exactly, is science as well as why, sometimes, people ignore science was what really made the book.
I am Princess X by Cherie Priest
Once upon a time, two best friends created a princess together. Libby drew the pictures, May wrote the tales, and their heroine, Princess X, slayed all the dragons.
Once upon a few years later, Libby was in the car with her mom, driving across the Ballard Bridge on a rainy night. When the car went over the side, Libby passed away, and Princess X died with her.
Once upon a now: May is sixteen and lonely, wandering the streets of Seattle, when she sees a sticker slapped in a corner window. A sticker of Princess X."
A breathless chase through Seattle, where I never quite knew what was going to happen, ending with crazy madness and excitement. The comic portion integrated very well with the story and it was cool to see what May had been talking about just the page before play out in the comic.
It's one of those this-is-a-cool-idea! books that could have gone horribly wrong, but Priest has enough chops that it not only works, it works well. It's also a super quick, super fun read – I actually finished it in a day. That doesn't happen often. 🙂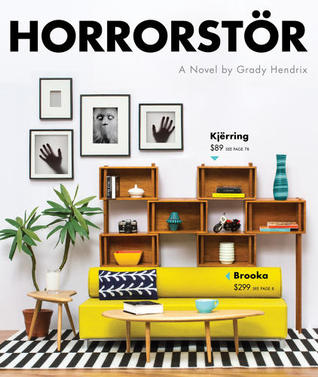 Horrorstör by Grady Hendrix
"Something strange is happening at the Orsk furniture superstore in Cleveland, Ohio. Every morning, employees arrive to find broken Kjerring bookshelves, shattered Glans water goblets, and smashed Liripip wardrobes. Sales are down, security cameras reveal nothing, and store managers are panicking.
To unravel the mystery, three employees volunteer to work a nine-hour dusk-till-dawn shift. In the dead of the night, they'll patrol the empty showroom floor, investigate strange sights and sounds, and encounter horrors that defy the imagination."
This was absolutely ridiculous. But in a good way! I wish I'd had it for Halloween, because it would have been a perfect all-night read. Just spooky enough without actually being scary. Just odd enough to be hilarious. And a perfect commentary on working in the modern retail environment.
The illustrations of the various Orsk products were also brilliant, devolving along with the story. I liked finding all the easter eggs in both the drawings and the story. Another book I read all in one sitting, because it was just too much fun to put down.
The Fifth Season by NK Jemisin
"This is the way the world ends. Again.
Three terrible things happen in a single day. Essun, a woman living an ordinary life in a small town, comes home to find that her husband has brutally murdered their son and kidnapped their daughter. Meanwhile, mighty Sanze — the world-spanning empire whose innovations have been civilization's bedrock for a thousand years — collapses as most of its citizens are murdered to serve a madman's vengeance. And worst of all, across the heart of the vast continent known as the Stillness, a great red rift has been torn into the heart of the earth, spewing ash enough to darken the sky for years. Or centuries."
Jemisin has solidified her place in my Absolute Fave Authors A++ category with this novel. It is haunting. It is gorgeous. It is surprising. It may or may not be paying a direct homage to Portal 2 with that ending.
It is, in a nutshell, everything I want from modern fantasy. Diverse and interesting and fully fleshed characters. Diverse and interesting and fully fleshed worlds. Several did that just happen?! moments. New magic systems that make me go why didn't I think of that?? Moral questioning. Moral darkness. And a very on-point critique of our own society.
The Fifth Season is by far and away my favorite novel of 2015. If you take nothing away from this list, at least do yourself a favor and read this.